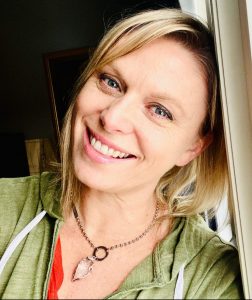 Hi, I'm Christine Daer, Certified Life Coach, Angelic Reiki Master and Lightworker, Essential Oil educator, Ageless Grace instructor and proud Mama of two gorgeous boys, Rio and Kai. My husband, Greg, is British and we met in Thailand! A holiday romance gone "right"! 🙂 We are currently living back in London, Ontario, my hometown, to be near my family.
I have spent most of my life travelling, soul searching, and letting my free spirit soar around the world! From my earlier career as an Actress and TV Presenter, to working at sea on cruise ships, I have spent decades exploring and enveloping many spiritual practices and working intuitively and creatively toward my soul purpose.
I founded RYVibe because I am passionate about helping others find ways to live on a higher vibration, surrounded by positive energy, and making more intentional and mindful choices. I look forward to coaching you through any transitions, challenges and limiting beliefs to help you achieve your goals, exceed your potential, and transform your life … from ordinary to extraordinary!